Robert De Niro is back in the ring in biopic Hands of Stone. This time though, he portrays legendary trainer Ray Arcel, who comes out of retirement to coach Panamanian boxer, Roberto Duran (Edgar Ramirez).
Ferocious and merciless, Duran is a natural fighter and after scoring a string of knockouts, he prepares for a fight with Sugar Ray Leonard (Usher Raymond), the undefeated world champion. The film portrays the 1980 rematch between the two boxers, one of the most infamous fights in the history of the sport.
Hands of Stone is a highly dramatic, but messy portrait of Roberto Duran, who's widely regarded as one of the greatest fighters of all time. The film details Duran's rough childhood, showing how he grew up in the slums of Panama City, where violence was commonplace. He's presented as a kind of tragic folk hero who is a product of his environment. With the support of his loyal sweetheart, Felicidad (Ana De Armas), who he often calls "Blondie", we are shown his rise to stardom in the boxing world during the 1970s and early 1980s. It's a great rags-to-riches story, and inevitably the film depicts his fall from grace.
Hands of Stone attempts to tackle boxing from a creative angle. In the opening scene, while Ray watches Duran fight in the ring, De Niro provides a voice-over telling the audience that boxing is an art-form. It's a commendable attempt at trying to put a new spin on an overdone genre, but it doesn't quite jibe with the rest of the film's tone, which is very raw and edgy.
Duran's life and career are depicted through many big fights that occurred over the course of a decade, and the film portrays the social and political problems that were going on in Panama at the time. The film does delve a bit too deeply into the history of Panama, because it starts to turn into a heavy drama piece, but still it's interesting nonetheless.
Hands of Stone is slightly jumbled and uneven, but it's not short of intensity and prolific acting. The performances of De Niro and Ramirez keeps you engaged. The film has a solid cast, even though Usher delivers a very polished portrayal of Sugar Ray Leonard. Also, it's great to see De Niro back doing serious acting.
The poorly edited fight scenes let the film down. The shaky camera work and excessive slow-motion close-ups of the boxers exchanging punches, make the action unnatural. When you watch a boxing match in real-life, you can almost feel the impact of every blow, and the energy in the ring is radiating. Quality fight scenes are the main thing missing in Hands of Stone.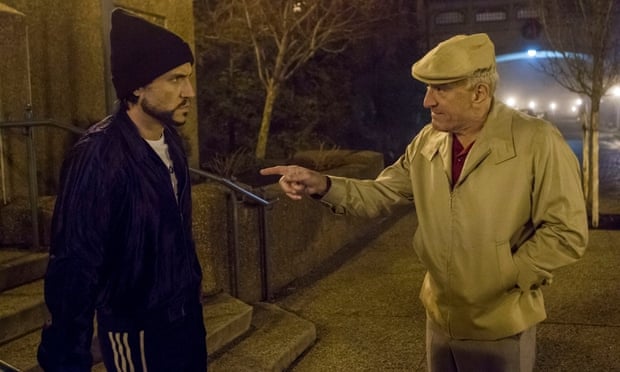 Overall:
Even though Hands of Stone contains lots of engaging drama, it's not the most memorable boxing film. It's in the shadow of greats like Raging Bull and the Rocky. However, the rise of Roberto Duran from a young boy living in a slum, to a legendary boxer, is very compelling. I enjoyed the story, even though the film does try to cram his whole life into two hours, but Hands of Stone is still entertaining. If you're a fan of boxing movies, it's worth a watch.
Quoted: "Duran's reputation as the hardest-hitting boxer in Panama kept growing, a reputation that would one day earn him the nickname … hands of stone."
Directed and written by: Jonathan Jakubowicz
Writer: Jonathan Jakubowicz
Stars: Edgar Ramirez, Robert De Niro, Usher Raymond.
Distributor: The Weinstein Company
Run Time: 111 min